Spartan Sword & Shield
"For the Lord gives wisdom, and from His mouth comes knowledge and understanding." Proverbs 2:6
The Spartan Sword and Shield Honors Program offers a challenging and collegial environment for highly motivated and academically competitive students. As this program is intended for highly motivated and academically competitive students, it is by invitation only. The curriculum in the Honors program is rigorous and challenging. Once a candidate is accepted into the program, a curriculum is set in place from their starting year. Based on their chosen path, the student must take the predetermined classes in the honors, Advanced Placement and dual enrollment levels.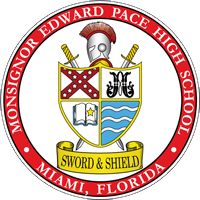 Spartan Scholastic Program
"For the Lord gives wisdom, and from His mouth comes knowledge and understanding." Proverbs 2:6
The Spartan Scholastic Program is Monsignor Edward Pace's college preparatory curriculum. Students within this program have an opportunity to enroll in General/Honors, Advanced Placement,Dual Enrollment, and Specialty courses. Monsignor Pace High School is first and foremost a Catholic institution; therefore, students are required to take a minimum of 4 credits in Theology. Students graduate from Monsignor Pace High School with a total 28 credits, meeting the Florida Department of Education graduation requirements. Please click on each subject area for more detailed descriptions of all courses within that department.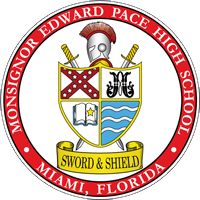 Spe Salvi
"SPE SALVI facti sumus" - in hope we were saved, says Saint Paul to the Romans, and likewise to us. Romans 8:24
The Special Diploma attained at the completion of the Spe Salvi Program is a viable option for students with disabilities who are not able to meet the requirements for a Standard Diploma; therefore, the students are not college-bound. Earning the Special Diploma is based on successful mastery of State prescribed standards and the successful completion of courses specified by Monsignor Edward Pace High School.
The Domains addressed in the Program, according to the Sunshine State Standards, are:
• Curriculum and Learning Environment
• Independent Functioning
• Social & Emotional Behavior
• Communication
In addition to meeting Sunshine State Standards, students in the Spe Salvi Program will be enrolled in vocational courses, with an emphasis on job skills. In an effort to meet the needs of all our students, Pace offers an inclusion program for students with special needs. Three Exceptional Student Education Specialists are on staff full-time, conducting teacher training and overseeing the program.